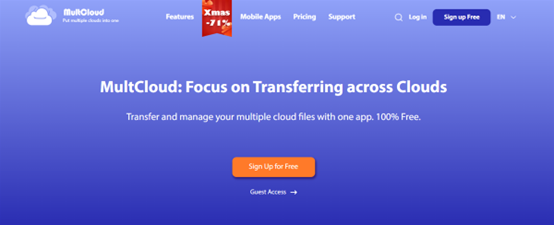 What Is Cloud Sync?
Cloud sync is a way to keep files in different cloud services the same. No matter where they were edited or modified, the file will be always the same. This feature is convenient to keep files consistent and accessible for users across multiple devices such as laptops, phones, etc.
For example, when a user edits or modifies a file on one cloud, the changes will be automatically synced with the corresponding cloud. This real-time sync makes it easier for users to spend less time locating documents.
Considering many users are using multiple cloud services at the same time, data sync might happen sometimes for better management. The point is how to sync files from one cloud to another directly and easily. In this article, we will offer you a simple solution.
How to Sync Data between Cloud Services
The easiest way to sync data across cloud drives is to utilize a cloud sync service, MultCloud. It currently supports over 30 leading and popular cloud drives on the market. For example, there are Google Drive, Google Photos, SharePoint, OneDrive, OneDrive for Business, Dropbox, Dropbox Business, NAS, Flickr, Amazon S3, MEGA, and so on. In other words, users can sync data between those cloud drives directly without downloading and uploading.
Why choose MultCloud to sync files between cloud drives? Here're some detailed advantages:
Various Sync Methods Supported. There are 9 practical sync methods that users can enjoy, including Mirror Sync, Move Sync, Cumulative Sync, Update Sync, Real-Time Sync, etc. Each one has its own features and users can utilize the one that suits them most.
Customized Sync. MultCloud allows users to make customized sync. Specifically, users can choose to sync the whole or partial data from one cloud to another. If they choose to sync certain files, they can utilize the Filter function to find out files with certain extensions quickly.
Scheduled Sync. Users are allowed to make automatic sync tasks and MultCloud will run the task on time. There are 4 options, including running at a regulated time, daily, weekly, and monthly.
Offline Sync. Unlike its competitors, MultCloud consumes data traffic when it syncs data between cloud drives. So, it won't be affected by the internet connection. Although the computer shuts down, files can be synced successfully.
Now, we will illustrate how to make cloud sync with the help of MultCloud.
Step 1: Sign up for a MultCloud account.
Step 2: Go to Add Cloud to add the cloud drive you use. If you want to sync Google Photos to Google Drive, you can add those two cloud services.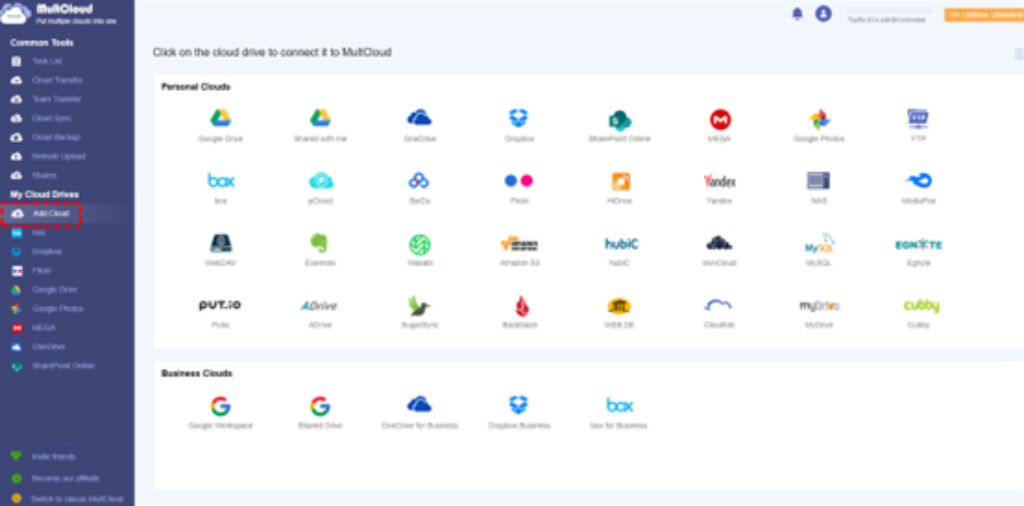 Step 3: Click on the Cloud Sync button on the left main taskbar. Then select the source and target directories. Finally, press the Sync Now button.
With the help of MultCloud, files can be synced as quickly as possible. And users can choose any sync method that suits them most. When users click on the Schedule tab, they can set up automatic tasks; when users hit the Options button, they can utilize the Filter feature to find out files with certain extensions quickly.
Thankfully, MultCloud launched its mobile app this month. However, the mobile app doesn't support syncing files between cloud services currently. It is said that MultCloud will update the app gradually and will support cloud sync in the near future.
On top of syncing data across cloud drives, MultCloud also allows users to transfer and backup files between cloud drives. Similar to syncing, users can enjoy the most efficient speed when moving and backing up files across cloud services. Different from the download-and-upload method, using MultCloud can make it easier to manage data on multiple cloud drives. For instance, you are able to migrate Dropbox to OneDrive.
Conclusion
Anyway, cloud-to-cloud sync keeps data up-to-date and makes it easier to access the latest version of data from any device. When you want to make cloud sync, you can utilize MultCloud to ease your burden. It not only can help you sync files between cloud drives directly and efficiently but also offers a convenient way for you to manage different cloud storage services in one place.